my endless summer
Tuesday, Sept. 06, 2005 | link

Boy I did ZERO this weekend, total goose egg. Oh except I made spaghetti. And Marco and I had brunch with Gene. And potato pancakes and sausages and things with the Mellos. And pizza in San Anselmo with my cousin Jesse and his girlfriend Melody and my dad and my stepmother, Pat. But other than that, NOTHING! It was absolutely quiet, just the tick-tapping of Daisy's toenails on the floor and the call of mint-chip ice cream in the freezer.

And to tell the truth, it was nice, really, really nice. I feel like I've been overbooked and overlapped and just running, running, running this entire summer. It all started with Jill's birthday dinner in May, which was entirely fun. I wore a very weird backless satin shirt with fluttery sleeves, which I bought over a year ago but have never worn because I was waiting for the right bra to come along, maybe a ceiling-mounted rail system with an individual cable supporting each breast, a la electrical Muni bus antenna? But when no rack-and-pinion bra materialized, I just went for it with a strange lacy beige mom bra, totally IN YOU FACE, like YES you can see my lacy beige mom bra, any questions? Because I'm absolutely willing to talk about it, my lacy beige mom bra. I also enjoyed a quick succession of fruity drinks, one of which was purchased for me by the bartender himself as a reward for asking him, just as "Imagine" came blasting on the stereo, "Are you imagining all the people?" (It helps to know that it was a Saturday night, and the bar was very, very empty.) I also, if memory serves, went on a rant that night about why it is that otters can't be found in Puerto Rico?

Closely on the heels of Jill's birthday was my summer's FIRST trip to NYC, to help McSweeney's set up for the book fair and also to attend the Television without Pity summit dinner, where I may or may not have over-shared (TMJ!) about how I went in to Leisa's salon to get my eyelashes dyed but wound up getting yet another full Brazilian wax with "glamour puss" star-spangling, all in the name of journalism (friend Amy needed to interview and observe someone getting a full wax for a piece she was writing, and since I was there...).

I flew back from New York on a Sunday, and then the very next day I started my new job at Friendster. The day after that was Marco's birthday, and I took him to Defina for glorious steaks and buttermilk panna cotta. Next came my own birthday choctail party, followed the day after that by Marco's birthday barbecute. And then suddenly it was the Fourth of July and we were having impromptu s'mores and s'beers and s'plosions in my apartment.

Then came Yosemite, with its shooting stars and debilitating blisters.

(And there were many, so many nice dinners mixed in and around here, with ladies wearing tall boots and neck scarves and lipstick. Also: a whole series of barbeques, so many hotdogs and melon balls, and a blackberry pie, I made a blackberry pie!)

And then Caroleen's bachelorette party in San Jose, with its magnificent magnums of champagne and upside-down, inside-out rides. And fire drills! One at 1:30am, one at 7:30am (as we stood around in our pajamas, waiting for the firemen to give the all clear, I tried to convince Caroleen that they were all there to strip for her, and how awesome would that have been?).

Then Marco and I tossed Jill a good-bye-for-now party, which started early and went late and involved surprising amounts of brown carbohydrates, lime-based drinks, and one very drunk man who kissed everyone all over their heads (maybe you can hire him to come to your next party!). Leah's party was the following, and was full of musical feats, monumental landscaping, and a peerless meringue.

And then Marco and I went to NYC for five days! We saw the Paul Taylor dancers dance for free in the park at Lincoln Center, we walked across the Brooklyn Bridge with Teva and Jeffrey, we rode the Staten Island Ferry with Paul, we went to Times Square at night, we went the Chelsea Hotel (where we got snapped at by a vigilant hotelier, who mistook Marco's reverential stroking of the elevator button as an attempt to go upstairs and not the "just imagine who else has touched this button" swoon that it truly was), we went to the spot where Max's Kansas City once stood, and the general area where Kiss used to practice, and we went and peeked in the door at CBGB's, and went for drinks at Siberia, home to a heaven and hell of bathrooms: one lined with real, live, punk-rock vomit, the other smelling inexplicably sweeter than any other bathroom ever. And of course we went to H&M (Marco and I got separated, and when I found him his arms were stuffed with hats and shirts and his hands were cluttered with rings and wrist cuffs, and his face was all lit up, "I LOVE H&M!" he yelled). We ate peach doughnuts at the Doughnut Plant, and Sunshine cupcakes (yellow cake with vanilla buttercream) at Sugar Sweet Sunshine, and candied street nuts, and Korean dumplings, and ice cream from the Chinatown Ice Cream Factory. We never went to bed before 3am and we woke up and drank Starbucks unapologetically every single morning (which I never do in San Francisco because Peet's makes it so very easy to be PC with my coffee dollars).

On Monday alone we went to the American Girl Cafe for breakfast (since simple, earth words can not do this experience justice, let me just say that we were given a loaner baby doll, which sat next to us in a baby seat clipped to our table, and the napkin rings were black and white polka-dot scrunchies, which we were allowed to take home with us); then we walked two full sides of Central Park, then we went and saw the dinosaur bones at the Museum of Natural History, then we walked up Broadway to 101st street for slices of cheese pizza at Sal and Carmine's (the second time that trip that we had pizza there!), and then up to 105 Street to the Silver Moon Bakery, where I had the most amazing, amazing macaron cookie, and then we went home to Megan's beautiful apartment, where we were gleefuly housesitting, to change to go see the one and only Les Paul play at Iridium, and then we went to see Todd pound the boards with his body at the Upright Citizens Brigade theater, and then we finished up with a drink around the corner with Todd and Lisa, at a bar with a edgy, wheelchaired sentinal out front. All! On Monday! New York CITY!

And! Then! The following weekend Jeff and Caroleen got married! The wedding was at the Swedish American Hall, which is full of handsome dark wood and nordic thrones, and, on the evening of their nuptials, many, many attractive people wearing beautiful, colorful plumage. And there were BLACKBERRIES in the bouquets, which Caroleen herself picked out the day before at the flower mart, and which her whole family lovingly arranged into dozens of different little vases.

I wore a dress covered in birds, ate a great deal of pork and cake, and poured vast quantities of champagne into my throat. I also danced and cried and got the hiccups. And worked the bar! Briefly. All in honor of Jeff and Caroleen's deep and shining love!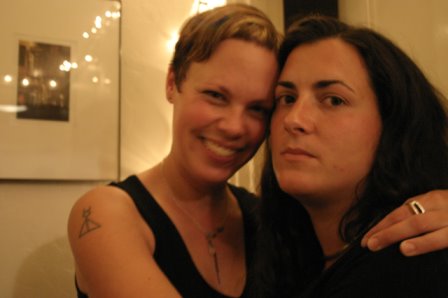 Jill and sad Gayle at Jill's goodbye party.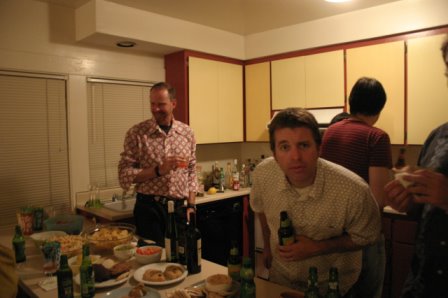 Keith!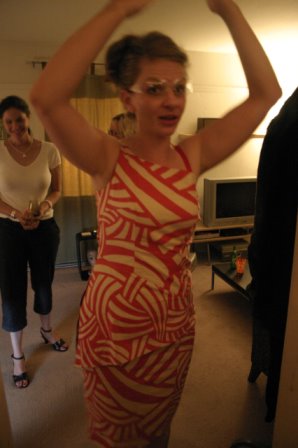 Safety comes first at Jill's goodbye party (oh how I wish you could see my shoes here, they matched FREAKISHLY!).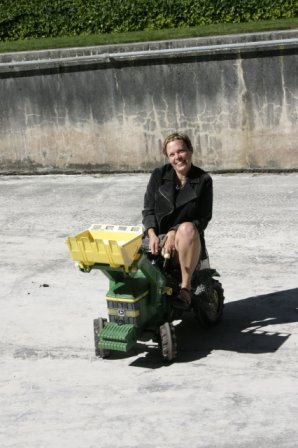 Jill, on a tractor, at Leah's.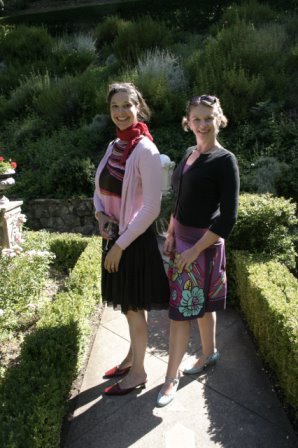 Heidi and I practice Grandmother Stauffer's famous photo pose, Leah's house.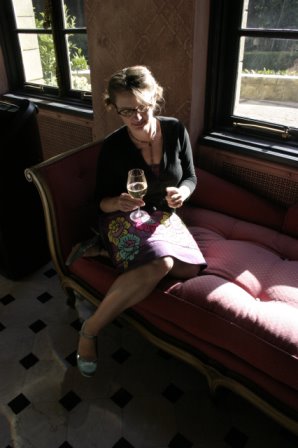 Sometimes I like to think, with wine, at Leah's house.

At the American Girl cafe.

Me and my loaner American baby (who REFUSED to eat the chocolate frosting dirt pot, or the french toast, or the egg thing I got).

Marco before the coffee arrived (which I now suspect was decaffeinated anyway).

Marco burping baby.

American Girl dolls getting their hair done at the American Girl doll salon (just next door to the American Girl doll hospital).

At Iridium, waiting for Les Paul to go on.


On the Brooklyn Bridge.

Pizza from Carmine and Sal's!

Sunshine cupcakes!

Doughnut Plant doughnuts!

Eating pickles.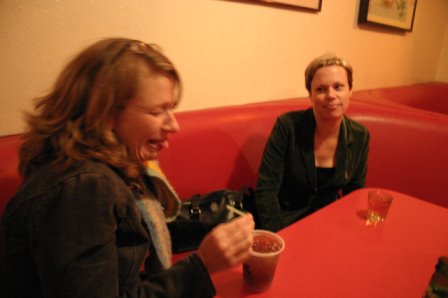 The face of "long island iced tea," post rehearsal dinner drinks.

Adrienne at the wedding (with Marco explaining the term "dirty sanchez" to August in background).

The cake! Baked by by hand, by Beth!

Jeff and Caroleen! And the dress I spotted on sale at BCBG, which I made Caroleen come back to the store to see! You see that? FEATHERS at the hem! Feathers! I DO indeed!

All the pretty dresses!

Liz, with Ivan and semi-colon.

Liz looking searing in pink!

Lots of champagne!

And lots (with Amy and Leisa).

Sitting on a throne (with champagne).
Which brings me to this, the sad end to a long, glorious weekend as empty of plans and champagne as humanly possible. (Who IS this?)

(PS: My diary has officially moved over to my official evany.com website. Let's meet up over there!)