a month of phat tuesdays!
Thursday, Mar. 29, 2007 | link

I've been having such good Tuesday luck this March! This past Tuesday, Adrienne and I met up with Liz, Brett, and Josh at the big "Meat & Greet" launch party for the shiny new Meatpaper, a magazine which is proving to be one of those overlapping circles of coincidence that life sometimes hands you -- I heard about it because Sasha, the woman who designed the Sleep book, is one of the founders, but then her co-founder is magically the wife of my special new internet friend Chris, and she also works with Adrienne at KQED, and she also is ultra-close friends with a woman I went to college with, and, and, AND -- which leave you feeling like you're the superstar of a complicated Dickens novel, where everything puzzles together with a satisfying, cardboard-y SNAPPP! (And then Adrienne and I went to the St. Francis for warm brownies and cold ice cream. PERECT ENDING!)

Last Tuesday I finally, finally flesh-met Amelia Bauer, the woman who illustrated the Sleep book. For a year now, she and I have somehow managed to keep missing each other -- I'm in New York, she's in Santa Fe, she's in San Francisco, I'm in, I don't know, somewhere stupidly not-San Francisco -- and anyway, you know how you meet someone and you just instantly like the way their face moves when they talk? That's Amelia...just a fresh little plucky cloud of yay! She and I enjoyed a nice rice storm at Little Baobob along with a bunch of the McSweeney's kids, and a bunch of pitchers of that crazy-great fruit booze punch. There may even have even been some jerky public puppet dancing along to the dreaded (hoh!) reggae music?

And then the Tuesday before THAT, one of my oldest, greatest friends Shree and I went to see Word for Word's take on a story by the bogglingly likeable Lorrie Moore. Dave and Vendela and Lisa and Daniel were all there, milling around in the lobby before/after the show, and Dave nicely introduced me to Lorrie, and I smiled and shook her hand (!) and said, "hello" and "nice to meet you," like a completely normal person, which as you well know is a big step for me. But then I countered that small victory by babbling strange, uncomfortable things to everyone else in the room. (Evany to Vendela: "Sorry I had to keep leaving your reading, but I had to go outside and cough so hard I peed my pants." Vendela: "I don't think that's supposed to happen until you have a baby." Evany, gesturing in a circling motion at her peeing apparatus: "Oh, I've got a LOT going on down there." World at large: "Shhhhhhh?") I also ate a incredibly fine vanilla cupcake from snooty Greens!

And then...something really good happened the Tuesday before that. Was it the Trapped in the Closet Sing-along? Where, while waiting in line, I overheard someone say, "Is there an age maximum for this?" No, that was on a Wednesday, so that doesn't fit in here at all. OH WAIT! After an archeological dig through my e-dusty email inbox, I now remember exactly what happened Tuesday, March 6: Jennie took me to the Kasper Hauser SkyMaul powerpoint show! After which we stupefied ourselves with tracter-pull portions of Indian food! Oh right. That was good.

Coming up: chicken-shopping with Caroleen, also everyone's favorite Brangien's in town!





(PS: My diary has officially moved over to my official evany.com website. Let's meet up over there!)


the great go-between caper!
Thursday, Mar. 22, 2007 | link

Edited to add the following babbling explanapology: Oh no! Not Martha Megan just posted a "forgive me" response to my HILARIOUSLY INDIGNANT RANT, below (which was supposed to be light-hearted? because what kind of awful would I be if I tried to lay claim to inventing a piece of teeshirt?). But sorries are so, so not necessary! Because even though it looks like the RANT in response to Megan's bellywarmer post of yesterday, I actually wrote the RANT before I read her bellywarming post! And the only reason I outfitted the RANT with that link to Megan's original, 2003 post about my Go Between was because her post was the only reference I had that had an actual date attached to it! Oh Internet, you sure do get me in trouble sometimes. I'm not making any sense, am I? I sound totally crazy, don't I? Glub, glerb, gleep! (Trans: I LOVE YOU, MEGAN!)


Wait a second! First my really great tampon fortune idea gets swiped, and now it looks like my billion dollar go-between invention (which debuted, you may remember, four full years ago almost to the day) has been totally thieved! What is this world coming to that a girl can't cut the bottom off of a tee-shirt without the whole world trying to horn in on the idea?

Also it seems people are thinking that this is the "new Japanese fashion"? Pfft. Japan by way of EVANY THOMAS, maybe!
(Thanks for the tip-off, Becky!)

(PS: My diary has officially moved over to my official evany.com website. Let's meet up over there!)

two days in the life
Sunday, Mar. 18, 2007 | link
Things have been gloriously busy in both my life and head these past weeks. To give you an idea of just how much of a liar I'm not about this, here's a little glimpse at my schedule from last weekend:
9am Saturday: Wake up, do some gentle puttering and coffeeing in my delicious cashmere robe.
Noon: Marilyn (in town all the way from Boston) and I hit the dog-friendly Redwood Park for a thigh-shaking nine-mile hike with Pigstar.
4pm to 5:15pm: Frantic showering and outfit-fussing.
6pm: Marilyn, Marco, and I join Liz, Ivan, Heidi, and Paul for a delicious dinner at COCO500, wherein much pink wine is consumed (by me), mini crowns are doffed, three different cameras are flashed, and the conversation lurches from Beaches to the Dutch East India Company with lusty (if ignorant) verve.
8pm: Heidi, Paul, Marilyn, Marco, and I pile into the brown, brown Marco-mobile, new home of the mysterious authentic ali-croc head, and putt on over to the Grey Area Gallery, where the opening friend Annie was so fired up about is being held, and where I ogle the find arts (Amy Ruppel's beeswax/resin painting/collages are even more lux in person, hoo!), talk to one of the gallery owners about her most excellent Proenza Schouler for Target top, and (eek!) forget to tip the bartender (oh how I woke the next morning full of panicked regret over this!).
9pm: We all leap back into the car and head back to SOMA, to the Utah, where my friend-from-grad-school Buzz reads from his brand new book, Madonna of the Toast, and where I am so happy to run into friend Kirsten, it's been too long! Bands play, multiple readers read, and finally...
Midnight: ...Marilyn, Marco, and I head back to our place, where we tuck Marilyn into the couch and shuffle off to buffalo (bed).
9:30am Sunday: Already well coffeed and yogurt-fed, Marilyn packs up her rental car and heads off to the airport -- bye, Marilyn, we'll miss you! -- and Marco, Sandra, Pigstar, and I roll off to Pacifica, where Marco surfs, Sandra and I fondle sea anemones, and Piggy runs and runs.
11:30am: Marco, Sandra, and I brunch it up on an insane three-way split of hash, olallieberry crepes, and a towering Rueben, jesus christ!
2:30pm: Drop off Sandra and head home.
3-4pm: Power nap.
4:30pm: Drive to San Jose.
5:30pm: SHARKS ON THE POWERPLAY!
7:30pm: Drive home.
8:30pm: (Without, of course, neglecting to stop at In-N-Out for a burger animal style, which I always mistakenly refer to as "Monster Style," much to everyone's mirth and confusion.)
9:30pm: Home again, home again, only barely conscious enough to brush our teeth and hobble to bed.
5am Monday: The alarm blares...

(PS: My diary has officially moved over to my official evany.com website. Let's meet up over there!)

pop art
Friday, Mar. 09, 2007 | link
Continuing on this informal theme of profiling of some of my favorite "grab in case of fire" things, I present to you a sampling of my dad's art, which is sprinkled throughout our apartment.
I have a couple of his vintage light-refraction sculptures, which he made in the 60s and 70s and which I just adore (despite the fact that the years he spent working with all those toxic plastics did a number on his internal organs, and he's got the fifty-stitch scars to prove it, oof):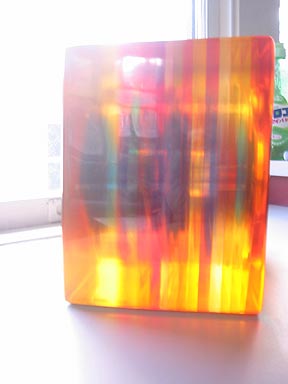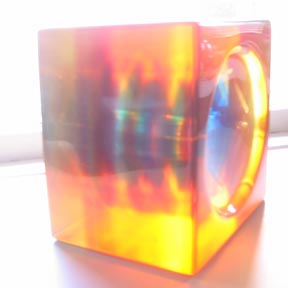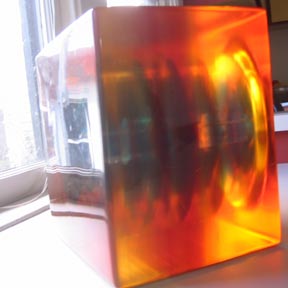 Recently my dad's been getting really into nature-ful painting. A few weeks ago, he invited Marco and me to pick out some of our favorites, and both Marco and I immediately fell for this flock of cranes (and one errant pelican):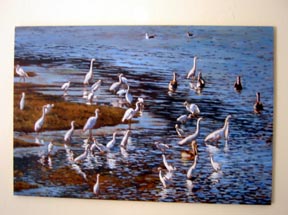 The bird painting is on the big side, like 2'x3', and we're still experimenting with finding the right spot in the house for it. Currently it's hanging in our room, which feels a little odd, but I think it's going to take a few more weeks before it becomes clear if it's a good odd, or a bad odd. (What's the feng shui ruling on bird paintings in the bedroom?)
And then there's this little (it's much smaller, maybe 8"x11") ode to the colors of Marin, which is now hanging pretty in our foyer: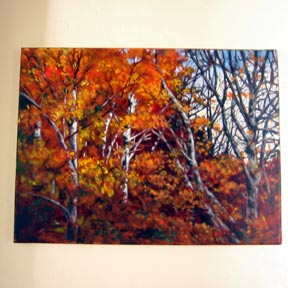 I feel so lucky to have these things hanging out in my house! Not only are they lovely in and of themselves, but they're also this constant gentle reminder and extension of someone I love. Ditto my collection of paintings and crafts and books and jewelry and CDs created by all my talented friends, which I've threaded throughout my nestibule. It all just makes me feel plumped and patted and loved and just, yeah...lucky.

(PS: My diary has officially moved over to my official evany.com website. Let's meet up over there!)

refrigeratorrings!
Thursday, Mar. 08, 2007 | link
Right now H&M is selling these awesomlarious magnetic earrings (sculls, rhinestones) special for boys who are not quite man enough to actually pierce their ears. Well it turns out these earrings not only stick to total pussies, but they work on refrigerators, too:

(Also: Fantastic itsy fridge-topper trees courtesy of Daiso, the greatest $1.50 store EVER, truly god's gift to gift-shopping!)

(PS: My diary has officially moved over to my official evany.com website. Let's meet up over there!)

big news in fashion
Wednesday, Mar. 07, 2007 | link
I love, love this: Apparently a naked PETA protester jumped onto the runway at a recent Valentino show, and? "The fashion crowd, ever blase, simply noted, 'Wow, no cellulite!'"

(PS: My diary has officially moved over to my official evany.com website. Let's meet up over there!)

a bootyful day
Tuesday, Mar. 06, 2007 | link
Wow so remember that Noise Pop reading I did last week? (Which, by the way, was so much fun and, perhaps not coincidentally, featured lots of alcohol-inspired beverages, woo boy.) So the event was sponsored by Dr. Martens, and as a very nice gesture to the performers, they offered each of us a free pair of shoes...just pointed us at the DM website and told us to pick whatever we fancied. Now I haven't owned a pair of DMs since college, so I was expecting to find the same old yellow-stitched boy shoes of yor. But just look what I spied:
Not only are these Jenna boots comfy, and sexycontin-ly addictive, but they actually fit around my child-bearing ankles and cow-sized calves! I am very, very happy.
And they go so nicely with my woodgrain skirt (from sadly now-defunct Maude O.), not to mention my latest Operation Grow haircut (I trekked out to my hair-lady in Dog Patch on Friday, a visit I two-birded with a stop by Annie and Eric's new, amazing, bright, and inspiring studio, so nice!)...
...and our bedroom's snuff-film carpeting...
...and, wayyyy back in the corner there, my great cavemannish HUGA magazine rack, which I bought long ago at the Giant Robot in LA and which also makes me very, very happy. Life is good!

(PS: My diary has officially moved over to my official evany.com website. Let's meet up over there!)

cookies on demand
Monday, Mar. 05, 2007 | link
Here's a new trick I learned from my friend Sophia: Make up a batch of cookie dough, drop the individual dough balls onto a cookie sheet and flatten them a tad just like your fixing to bake them, only FREEZE THEM INSTEAD! And then when they're nice and icy, put them into a freezer-safe delayed-enjoyment bag:
This way, whenever you want a hot, fresh cookie injection, you just put one or three frozen doughlets onto a cookie sheet, and pop them in the oven for maybe a minute or two longer than you would normally.
My modified Toll House recipe works especially well: I use just 2 cups of flour (versus the 2-1/4 cups the recipe calls for), double the vanilla (from 1 teaspoon to 2), and instead of chopping the nuts, I use toasted whole pecans.
Then the second those heavenly brown orbs are cool enough to touch -- but still melty-melty -- go ahead and pound them right into your cookie hole. I like mine paired with a towering glass of iced coffee.
This approach provides a triple bonus: Not only do you get fresh-from-the-oven cookies, which as everybody knows is when cookies are at their very best, and not only does your house fill up with that cookie smell night after night after night, but it slows the typical cookie-eating frenzy down to a sanely glacial pace. Much like the self-administered morphine drip I had in the hospital, the Freezer Cookie Method gives me just enough of what I need without letting me go completely overboard. So where usually a batch of cookies is safe only two, maybe three days around the dangerous gravitational pull of this here mouth of mine, this way I can make a batch last weeks and weeks.
Though of course this method only works if I manage to keep myself from eating the frozen dough, which seems to be my new problem. Sigh! Mayhaps the time has come for a Shockolate Vault?

(PS: My diary has officially moved over to my official evany.com website. Let's meet up over there!)

chili con awesome
Thursday, Mar. 01, 2007 | link
So this morning, at the very dark, cold hour of 6:30am, I was interviewed live on Michigan's Mix106 Morning Madhouse radio show. After about six minutes of fun chit-chattery, we said our goodbyes, but I stayed tuned because I'd just heard one of the DJs promise that Crazy Train was queuing up. But before Ozzy got a chance to ozz, they did a little more talking about my Sleep book, specifically what excellent bathroom reading they thought it would make because the descriptions of each pose are all so short and sweet, a person could make it through two or three in one "sitting"...or even more, if he or she had "just had chili." Which...is actually totally true.
I'm now thinking that the book needs to be outfitted with a starburst sticker that reads: "Enjoy 3 bite-sized pose descriptions per sitting, or more if you just had chili!"

(PS: My diary has officially moved over to my official evany.com website. Let's meet up over there!)